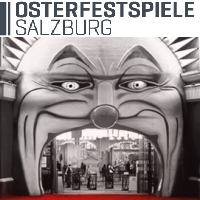 28.01.2015
AMBROGIO MAESTRI IS ALFIO IN "CAVALLERIA RUSTICANA" AT THE SALZBURG EASTER FESTIVAL
Following his extraordinary success at the Salzburg Festival in 2013, where he performed the title role in Falstaff during the celebrations for Verdi's 200th anniversary, Italian baritone Ambrogio Maestri is returning to the Austrian city for the 2015 edition of the Easter Festival. On Saturday 28 March at 6 pm he will be on stage at the Grösses Festspielhaus to interpret Alfio in Pietro Mascagni's Cavalleria Rusticana, with Christian Thieleman conducting the Sächsische Staatskapelle Dresden, Philipp Stölzl as stage director, and Jonas Kaufmann as Turiddu.
"After my debut as Alfio at New York's Met, with Franco Zeffirelli as director, I have performed Cavalleria Rusticana several times, also in Vienna. But I'm quite excited to be returning to Salzburg two years after my debut at the summer festival where I played the role of Falstaff.
The role of Alfio is demanding, though pretty short – continues Maestri – because it's very dramatic: there are no nuances and every phrase has to be sung full voice, still knowing that if you exaggerate and are not careful, you reach the duet with Santuzza without the energy that the music requires. Because Mascagni's orchestration here is sumptuous, with many brass instruments, creating a very rich sound, not so easy to "get past" by the singer. You need to give all the sound your body can produce.
Although Alfio is a carter – says Maestri – when I sing this role I try to maintain a sort of vocal elegance, without ignoring every aspect of his personality. Also because, despite not being the main character, as is often the case with baritones, he is the one turning the tide of the whole Opera!"
The show will have its second performance in Salzburg on Monday 6 April at 6 pm.
---